We are your One-Stop Job Shop
We are your one-stop source for aluminum. We will produce, finish, stock, and deliver your custom profile extrusions on your schedule. We keep your dies on file and can deliver more of your product on-time, any-time.
Don't have a place to hold stock? We can do that for you too. We will work with you to establish an appropriate stocking program.
We offer the following services:
The History of M-D Building Products, Inc.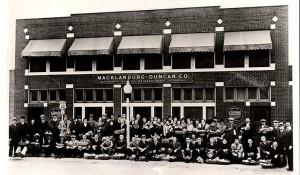 The MD story begins in 1920 with L.A. Macklanburg, a German immigrant to the state of Oklahoma. Frustrated with the insidious red dust that was constantly blowing into the house through every tiny crack and crevice around the door and windows, Macklanburg devised a solution: spring-flange weatherstripping.
This became the company's very first product. Macklanburg believed he would be successful if he provided quality products at a fair price with unquestioned service. M-D continues to focus on "old fashioned" values that give the company its reputation for quality, products selection and customer service.